Work experience options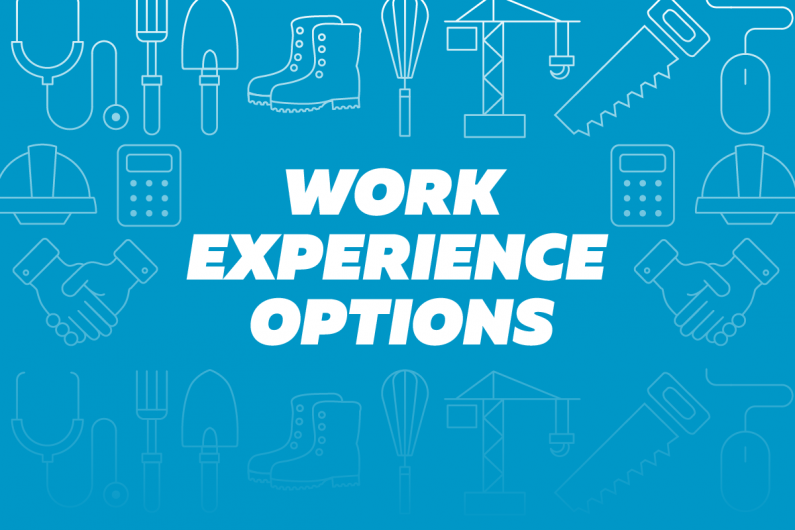 Get career ideas and try them out with work experience.
What's on this page?
Work experience can be work you do for your community, such as mowing lawns, helping on the marae or sports coaching, to work you do in a workplace as a cadetship or internship. The work may be paid, or be voluntary and unpaid.
Why do work experience
Work experience has many benefits. It can:
improve your chances of finding a job because employers prefer to hire people with work experience
increase your chances of being offered a permanent job if the employer thinks you're a good worker
help you learn more about a job or industry to decide if you like it or not
increase your awareness of other jobs you might like in the same workplace
give you the opportunity to study for NCEA and tertiary credits if you're doing work experience programmes such as Gateway.
Internships
Internships allow you to get work experience at an organisation for a fixed time.
Job shadowing and secondments
Job shadowing and secondments are short-term work experience options in your workplace to help you develop your career.
Job shadowing is when you work with a mentor to learn about a role or area of work. You may follow your mentor as they do their job tasks.
Secondments are when you work on short projects or work for a short time in a different role in your own workplace or another workplace. You can learn new skills this way, especially leadership skills.
Part-time jobs and holiday jobs
Part-time and holiday jobs can help you get work experience and may lead to full-time work.
Voluntary work
You can do voluntary work with a wide range of organisations such as school boards and committees, youth organisations, and environmental and cultural groups.
Volunteering helps you:
explore career options
get skills and experience for your CV
show your interest in a career to employers
make useful contacts or referees.
Tertiary learning and workplace experience at school
You can attend industry days and work part time while at school. Speak to your career adviser, Gateway co-ordinator or a teacher to get on work experience programmes.
Gateway, STAR, Trades and Services Academies
You can start tertiary or workplace learning while still at school. If you're in Year 11, 12 or 13 you may be able to attend Gateway, STAR, Trades Academies or Service Academies. They involve:
part-time work in a workplace or other organisation where you gain work knowledge or transferable skills,
assessment of the knowledge and skills you've gained
study at school towards NCEA and tertiary credits.
Workchoice Day
You need to be in Year 12.
You spend a day at a workplace and learn about different jobs.
Industry events and competitions
Learn about an industry or get work experience with industry events.
Competitions such as science fairs or the Young Enterprise Scheme give you a chance to do practical work while still at school.
From work experience to a career in forestry – video
Find out how Shideen went on a forestry work experience day and ended up with a career – 2.06 mins.
Shideen: My name is Shideen Nathan-Ngaronoa, and I am a Year 13 student at Campion College in Gisborne. We had talked about an upcoming Forestry Day Out that was hosted by Careers NZ. This was an opportunity I was definitely going to take. We went to the Level 5 and above course, which was for forestry management. It was a great day, it was really good. Careers NZ definitely did a good job with providing that. It gave me a better insight into the other career choices of being in the forestry industry, and not just using a chain saw.
In the holidays, the first school holidays, I went out with someone who I knew who was a forestry contractor, Forest Man contractors, and we worked on the silvicultural part of the forestry industry. I am doing the first cut of planting.
After the holidays I was pretty much sold on being a part of the forestry industry. I came back to school, talked to my careers adviser. We got in contact with Turanga Ararau to set up some further study to do with the forestry industry, that was working in partnership with my school subjects and my career choice through the gateway programme.
I wanted to do experience because it gives me insight as to what they actually do down here, rather than just going to university and coming here as a manager and just working off paper. You know I know what the boys are
doing and how to do it right.
Next year I plan on doing the first year of my Forestry Management Diploma at Turanga Ararau, and then the second year at Waiariki Institute of Technology. After that I do not know where I will be going, but hopefully either uni or a job in the forestry industry.
Updated 28 Jul 2023