Entrepreneurial competitions help you run a successful business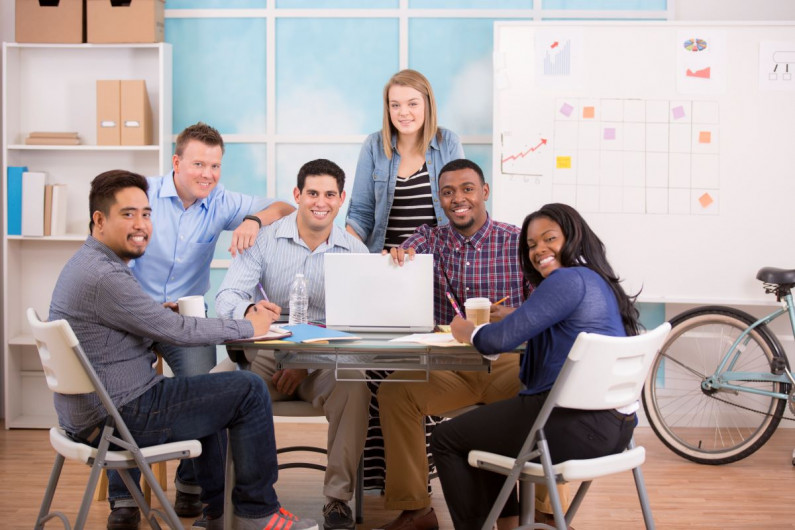 Competitions are a fun way to learn how to start a business.
What's on this page?
If you want to become an entrepreneur and run your own business after you leave secondary school or university, entering an entrepreneurial competition will help you:
develop the skills you will need
find out if it's a career you would enjoy.
Entrepreneurial competitions re-create the limitations and possibilities of running a business, so they're a good guide to the real thing.
Young Enterprise Scheme creates entrepreneurial skills
The Young Enterprise Scheme (YES) competition shows small groups of senior secondary school learners what it's like to be an entrepreneur by helping them create and run their own business.
"Being an entrepreneur takes a certain kind of mindset or way of thinking," says YES head of impact Colin Kennedy.
Entrants need business skills like sales, planning and research, as well as personal skills like resilience, communication and analysis.
During the competition, learners talk to real business coaches and entrepreneurs.
At the competition's national final, judges decide whether to invest pretend money in the businesses.
The winner is the business that gets the most "money".
The YES has three main goals, to:
create entrepreneurial and innovative skills and ways of thinking
inspire young entrepreneurs' hearts (give them courage), stomachs (with hunger) and heads (by giving them knowledge)
help the learners' companies be successful.
Case competitions need entrepreneurs who can think creatively
In case competitions, entrants are given information about an organisation and need to:
identify the challenges and issues affecting the company
use their skills and think creatively to find solutions to those challenges and issues.
The New Zealand Secondary School Case Competition (NZSSCC) is for secondary school learners and uses real business cases in their competitions.
NZSSCC entrants present their solutions to judges at local, regional, then national levels.
"The entrants think critically but realistically about the case they get," says case competition co-organiser Karan Kalsi.
"Then in the national final they make presentations and try to persuade the judges that their business solutions are the best."
The skills that case competition entrants learn are good skills for entrepreneurs, says Karan.
University competitions prepare students for work
Most New Zealand universities run an entrepreneurship competition for students, to give them experience and skills for their future.
Competitions may involve writing a proposal to solve a business problem, or attending workshops held over a number of days, with mentors available to help competitors develop their business ideas.
"The entrepreneurial way of thinking, and the skills that competitions promote, will be needed in the workplaces of the future," says University of Auckland's Velocity competition programme adviser Judith Marecek.
"There is no one skill that makes an entrepreneur. If anything, we would say personal traits like persistence and drive are key."
Entrepreneurship competitions at universities
University of Auckland
Auckland University of Technology (AUT)
University of Waikato
 Victoria University of Wellington 
University of Canterbury
Lincoln University
University of Otago
Entrepreneurship competitions for New Zealand and international students
Other entrepreneurship competitions
If you aren't a student, you can enter competitions such as:
Find out more
Sources
Kalsi, K, co-organiser, New Zealand Secondary School Case Competition, careers.govt.nz interview, August 2019.
Kennedy, C, head of impact, Young Enterprise Scheme, careers.govt.nz interview, August 2019.
Marecek, J, programme adviser, Velocity entrepreneurship programme, careers.govt.nz interview, August 2019.
New Zealand Secondary School Case Competition website, accessed August 2019, (www.schoolscasecompetition.co.nz).
Velocity entrepreneurship programme website, accessed August 2019, (www.velocity.auckland.ac.nz).
Young Enterprise Scheme website, accessed August 2019, (www.youngenterprise.org.nz).